Derwent Wall Benches and Centre Tables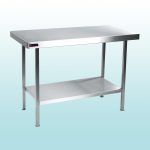 Corsair's renowned Derwent Wall Benches are supplied in standard depths of 600mm, 650mm and 700mm and suite perfectly with the extensive range of Derwent Sink units. With industry-leading specifications, Derwent Tables easily meet the needs of the most demanding commercial catering establishments.
Derwent Centre Tables share the same industry-leading specification of the Wall Benches and are available in either 650mm or 750mm depths.
Custom sizes are possible to your exact dimensions
600/650/700mm Range
1.5mm 304 stainless worktops
1.2mm 430 stainless undershelf
Sound-deadening pads
Undershelf supplied as standard on all models
All models despatched fully assembled or welded (nonstandard sizes)
Wall Benches have 60mm upstands and downturns
Centre Tables with 60mm downturn
Height adjustment 870/ 910mm