Specialists in Commercial Catering Equipment | Corsair Engineering
Corsair is a proud and genuine British manufacturer of commercial catering equipment. We provide innovative and cost-effective solutions to a broad spectrum of operators in the catering industry. This is both across the UK and Europe.
We are based in Banbury, Oxfordshire. From there, we design, manufacture and install solutions for the commercial catering industry. Whether it's custom-fabrication, serveries or food distribution systems, Corsair's products have an envious reputation for their simple effectiveness. And many are the fruit of professional caterers. They sit alongside our own design teams from inception to completion.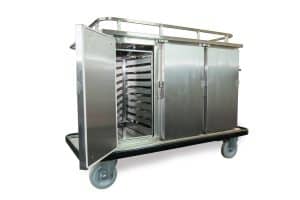 We work with an impressive portfolio of clients across all sectors. Our products are used daily in restaurants, staff canteens, schools, universities and hospitals. They are also used in one of the industry's most demanding environments, Her Majesty's Prison Service. For example, Corsair's challenger hot food trolleys transport in excess of 100,000 meals daily.
Commercial Catering Equipment Solutions
We are renowned for our food transportation systems. These have been developed alongside caterers over many years and makes us the trusted catering equipment suppliers we are today. Corsairs broad offering includes servery counters, mobile serveries and general fabrication. Such products include sinks, tabling, wall cupboards and a range of static and mobile hot cupboards. We also provide kitchen ventilation systems via its Vortex division.
Vortex | Bespoke Kitchen Ventilation
Some four years ago, Corsair successfully launched its Vortex Division. It offers a full spectrum of kitchen ventilation solutions to commercial caterers. As well as food transportation and production facilities. Alongside its other solutions, the Vortex Division highlights Corsair's strengths in design, manufacturing and project delivery.
We have a skilled and experienced workforce. So we can deliver on everything, from the simplest to the most complex of projects. Contact us today on 01295 267021.
LATEST NEWS :
After a busy first half of 2018, and a range of projects completed, Corsair Engineering are now looking to expand their design department. The catering equipment and commercial ventilation manufacturers have recently completed a run of fantastic projects, including work at sites such as the Nordic Kitchen, the Coal Drops Yard at Kings Cross, and the Wimbledon lawn tennis association. Following these completed works…