Challenger HMP Hot Food Trolley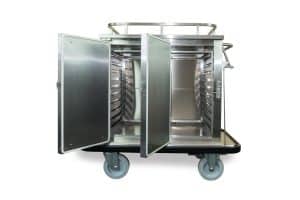 Corsair has been the default choice of Prison Caterers in the UK for the past three decades. The Challenger Range covers not only the popular 2- and 3- door heated trolleys but also offers a wide range of models such as higher capacity taller trolleys for larger establishments, individual compartment units for Halal-food segregation and special Rough Terrain Castors.
When combined with the Cherwell Range of Wing Serveries, it is easy to see why Corsair has met the needs of the HMP Estate and its caterers year after year with product quality and innovation.
Push/Pull handle on both ends.
Strong, sturdy and easy to manoeuvre castors.
Optional Rough Terrain Castors.
Protective 360o bumper-rail – strong and shock-absorbent.
Easy to remove G/N housing Frame for 10 off 1/1 containers.
Ease of emptying, refilling and cleaning – 180 deg opening doors.
Gallery Rail for the retention of articles on top.
Effective and easy to operate, cable-free Dead Man's Break.
Proven heating and insulating performance.
Easy to use plug storage point.
13A power supply – commando connector available.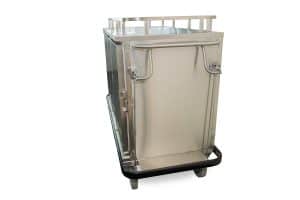 Challenger HMP 3D showing Dead Man's Brake
Do you require further information about our Challenger HMP hot food trolley? Please fill out the request form below and we'll be happy to help.