VORTEX Group – Creating bespoke ventilation solutions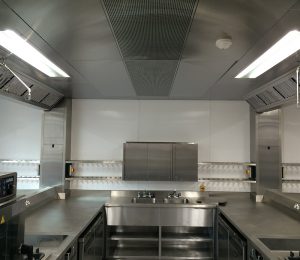 Corsair's Vortex offering gives competitive pricing, whilst maintaining high quality standards to ensure your kitchen scheme looks as good as it operates.
All systems are designed, manufactured and installed to meet the requirements of HVCA, B&ES Specification DW172 (updated) for Kitchen Ventilation Systems, and DW144 for sheet metal ductwork, all backed by our ISO 9001 accreditation.
All Ventilation canopies are manufactured form type 304 grade, silicone polished Stainless Steel material, with fully welded corners as standard.
Having a wide range of ventilation and air movement options available, your system will be specifically designed to suit your application, and all custom manufactured in our Midlands based factory.
Overview of Vortex Products and Services:
In-house system design, manufacture and installation
Spigot only and full system solutions
Ventilation canopies for front of house or standard kitchens
Extract only
Extract and supply
Peripheral extract
Dishwash and condense only canopies
Service distribution Units (SDU's) Carcass only, or complete fit out
Ventilated and plenum ceilings.
Shaped canopies
Stainless Steel wall cladding
Remote supply air cubes
Gas interlock panels
Integrated control panels
Noise control
Ozone, U.V. & Carbon filter odour control
Fire suppression systems