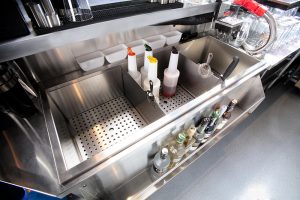 Talking about workstations in bar design may seem dry and impersonal but they are the key to improved customer satisfaction through constant customer contact, fast and personal service and minimal delay in getting the customers what they are there for – a drink!
Workstations are also the key to improved profitability – the more drink you serve, the more money you make.
In any given hotel or nightclub or pub, there will be several different activities taking place behind the bar –serving beer (bottled and draught), making cocktails and mixing drinks, glasswashing etc.
If we make each one of these as efficient as possible and as compact as possible, then we have a great opportunity to achieve the highest levels of customer satisfaction with the speed and quality of your service.
Alongside a range of standard sizes and configurations, Corsair's unique design and manufacturing facilities offer custom-built solutions to exactly match your operations.
Line drawing of cocktail station
Ease of specification
Combination of modular units and larger pre-defined workstations provides ultimate mix of efficiency and ease of maintenance and cleaning
Design of units emphasises density of storage – no wasted space
Stainless steel construction – durable, attractive and easy to clean
Custom built element enables precise alignment with a client's needs
Accessories such as bottle openers, speed rails and knock-out drawers for coffee grounds to provide the finishing touch to the DBS